Optical tweezers at ICFO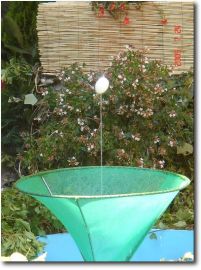 Optical tweezers use the idea similar to l'ou com balla. It consists in placing an egg in a fountain filled with water. When the egg goes over the fountain spout, the latter lifts the egg up and makes it roll over. That's why it's called "the dancing egg." It's a playful show celebrated the vigil and the Corpus day, principally in the cloister of Barcelona Cathedral, as well as in other catalan public courtyards. The tradition is dated back to 1440.
Consisteix a col·locar un ou dins una pica d'un sortidor, amb aigua a l'interior. Quan l'ou va a parar a damunt del raig d'aigua del brollador, aquest l'enlaira i el fa giravoltar; d'aquí que se'n digui "l'ou com balla". Es tracta d'un espectacle lúdic que se celebra la vigília i el dia de Corpus, principalment, al Claustre de la Catedral de Barcelona, però també a d'altres patis públics de Catalunya. Aquesta tradició de l'ou com balla data del segle XV, concretament, de l'any 1440.
Group Leader
Dmitri Petrov

Dmitri.Petrov@icfo.es
PostDoc
Caitriona Creely

(PhD University Dublin, Ireland), January 2004 – December 2006.

Satish Rao

(PhD at the University of Illinois at Urbana Champaign, USA), May 20, 2007 - August 20. 2010. Since September 2010 a postDoc at Cardiovascular Cell and Tissue Engineering Cardiovascular Research Center Mount Sinai School of Medicine, New York, USA

Michal Wojdyla

(PhD at the Nicholas Copernicus University, Torun, Poland, a postdoc at the Department of Chemistry, University of Dublin, Trinity College Dublin, Ireland), September 15, 2010 – September 2012

Raúl Rica Alarcón
PHD Students
Gajendra P. Singh

September 2002 – July 2006; since August 2006 a postDoc at the Department of Chemistry and Biochemistry, Florida Atlantic University, Florida, USA; since February 2007, a postDoc at MIT, USA; since 2009 Research Fellow (ARAKNES) at School of Physics & Astronomy, University of St. Andrews, Scotland. PhD Thesis: Raman Microspectroscopy of optically trapped cells .

Giovanni Volpe

September 2004 – October 2008.

Sandro Perrone

September 2006 – May 2009.

Saurabh Raj

PhD Thesis: "Mechanochemical study of single living cells and biomolecules combining optical tweezers and Raman spectroscopy" PhD Thesis presentation: "Mechanochemical study of single living cells and biomolecules combining optical tweezers and Raman spectroscopy" , Starting date October 2008. Defence> November 5, 2012

Monica Marro

Starting date September 2009.

Ignacio Martinez Sanchez

Starting date September 2009. Master in Photonics Thesis, September 10, 2010 " Biochemical noise in a single DNA molecule studied by optical trapping technique" .
Visiting Researchers
Gregory Kozyreff

(Universite Libre de Bruxellas, Belgium), February 2006 – February 2007.

Andrey Fedyanin

(Moscow University, Russia), April 2007, May 2008, December 2008, June 2009, November 2009, june 2010

Filip Beunis

(University Gent, Belgium - BOF fellow), October 2008.
Visiting PHD Students
AnnaChiara De Luca

October 15, 2006 – November 20, 2006

Irina Soboleva

2006 – December 20, 2006

Juan Pablo Staforelli

February 15 – August 15, 2007

Stefan Balint

September 4, 2007 – April 30, 2008

Pål Løvhaugen

February 4, 2008 – December 2008

Alexander Zhdanov

May 18, 2008 – June 2008, November – December 2008, November 2009.

Eugeni Lyubin

November 2009, June 2010

Alice Taubes

January 2010
Undergraduate Students
Sergi Marcadal
Nereida Rodriguez
Raul Alcaide
Asier Elejalde
Ana Morales
Florian Bluttner
Giorgio Volpe
Josep Mas
Luisa del Carmen Frias Pliego
Nicolas Rahuel
Monica Marro
Ioan Stan
David Frigola
Mario Tonin
Pau Mestres
Erwan Negre
Stephen Corcuff
Simon Tassy
Frederic Catala Castro
Projects
Raman Spectroscopy of Single Living Cells

Raman spectroscopy permits us to get time- and spatial resolved information on biochemical and biophysical processes in single living cells.

Combining Raman spectroscopy and Photonic Force Microscopy

Correlation of forces measurements with structural and chemical information reveals new insights in mechanics of single living cells.

Photonic Force Microscope as a Spectrometer

We study recoil effects due to the fluorescence or Raman emission when active molecules are proximal to, or adsorbed on the PFM probe.

Noise-Assisted Effects in Physics and Biophysics Studied by the Technique of Optical Traps

Using optical traps we study the noise assisted phenomena with two sources of noise: a thermal noise and an external correlated noise.

Electrophoresis in an optical trap

We study electrical states of single living cells and colloids detecting their response on electrical field of different frequencies.